Fractal Design adds USB Type-C, and some other stuff, to the Define R6 line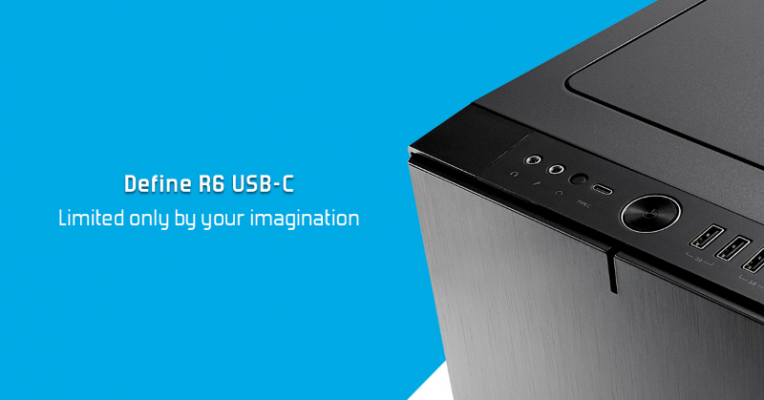 Fractal Design makes fantastic cases, at reasonable prices. Even now, after years of ownership, I still appreciate the thoughtfulness that went into the design. Standards have changed since they first arrived, so if there is one thing that would prompt an upgrade it's adoption of modern features, like USB Type-C.
Fractal Design Expand Define R6 line with USB Type-C model and new accessories

Define R6 USB-C, Tempered Glass Panel and HDD Trays / SSD Cages expand on the R6

Fractal Design proudly announces the expansion of the Define R6 line with new USB C versions and a number of accessories including seamless tempered glass side panels and drive bracket dual packs, now available separately to even further extend the capabilities of the Define R6.

Fractal Design Define R6 USB-C

Designed from the ground up, the Define R6 goes beyond iteration with a profound stride of innovation – the latest and largest step in the legacy of the world-renowned Define Series.

Seamless tempered glass and sound dampened steel panels encase a fully redesigned interior with more storage capability than ever before. USB 3.1 Gen 2 Type-C front I/O supports Fast Charging plus up to 10Gbps transfer speeds, and with nine fan mounts, included PWM fan hub, and 420mm radiator support, the R6 is the perfect platform for building your dream water loop. Improved third generation ModuVent™ technology allows an effortless transition from metal-clad sound dampened top panel to filtered high airflow multi-fan ventilation.

Expanding on the timeless, elegant form and silent modular function that brought so much success to its predecessors, the Define R6 offers the most demanding hardware enthusiast a solid foundation and flexible framework with limitless potential.

Define R6 Tempered Glass Side Panel

Add a layer of refinement to your Define R6 with an upgrade to tempered glass.

The Fractal Design TG panel upgrade kit lets you equip one or both sides of your Define R6 with a seamless, scratch-resistant tempered glass panel for a sleek, super-premium look.

HDD Drive Tray and SSD Bracket Kit

Increase the storage capacity of your Fractal Design case with a drive bracket upgrade kit. Each kit includes everything you need to add two additional drive mounts to cases with Fractal Design Type-A drive brackets and available mounting positions.