iTunes Match Reaching Out to Apple TV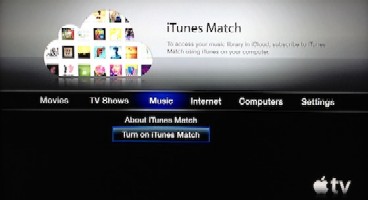 Apple TV owners have another reason to update their devices to version 4.4.2. Updated Apple TVs are receiving an option to connect to iTunes Match through a new top-level Music section. I had assumed that iTunes Match would work with every iOS device, but it is still nice to see it in action on the Apple TV even if the service isn't actually up and running yet. More importantly, it's nice to see music, the media type that iPods and iOS built their success upon, regaining its stature.
The second-generation Apple TV has lacked a "Music" section on its main menu page because Apple has not offered any streaming music services, although users are currently able to stream music content from their computers via Home Sharing in iTunes.