Iomega TV with Boxee Coming to Europe, Not US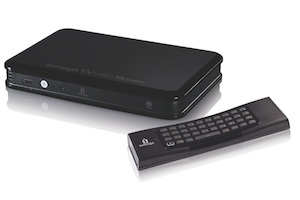 It's been quite a while since Iomega first announced their plans to build their own Boxee-based media streamer. The Iomega TV with Boxee went on sale in parts of Europe a few weeks ago and will be launching soon in more areas, but Iomega has no plans to bring the streamer to North America. Personally, I think this is an unfortunate turn of events as the Iomega TV with Boxee sounds like a pretty interesting device. D-link is to be applauded for taking the plunge with Boxee like they did, but the Boxee Box's unconventional design does restrict its placement a bit. The Iomega TV with Boxee opts for a more traditional form factor, but also adds a hard drive and NAS capabilities similar to the WD TV Live Hub. If any readers on the other side of the pond end up picking up an Iomega TV with Boxee, be sure to drop us a line and let us know how it turned out.
The device recently started to sell in Europe, but Iomega just told us that you won't be seeing it stateside anytime soon — or ever, for that matter. "Currently, there are no plans to launch Iomega TV with Boxee in North America," Iomega's Senior Director of Worldwide Communications and Public Relations, Chris Romoser, told me via email.