Gift Guide Roundup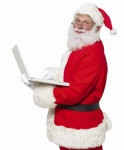 With the holiday shopping season in full effect, the Internet is awash in gift guides. These gift guides are ostensibly prepared to help us find the right gifts for our friends and family, but let's face it, we really use them to get a final rundown of the year's best tech gadgets and make our own Santa wish lists. At least we are honest about our intentions here at Missing Remote. If you're still writing your letter to Santa you might want to check out some of the gift guides best suited to us humble geeks.
Engadget does a whole series of gift guides every year, but their HDTV and home theater guide is always a treat.
For a crowd-pleasing holiday gift, it's hard to do better than a TV (or something that plays on or plugs into a TV), so naturally we're here to help you out once again. Of course, this is an ever-changing industry segment, but we've got you covered — regardless of whether you need a flat panel or a projector.
GigaOm has put together a special episode their Cord Cutters podcast to showcase their gift guide for this year.
No matter whether you want to give someone the gift of cable-free TV fun, or whether you are still looking for the perfect present for your own TV needs, we've got you covered with our Cord Cutters holiday gift guide.
Cnet takes an approach similar to Engadget with every tech category under the sun represented, but with less text and more videos.
We look at the best Blu-ray discs and PC and PS3 games to show off the capabilities of your 3D television.
Gift guides abound. If you have flipped through the virtual pages of a noteworthy gift guide, be sure to leave a comment and let us know about it.