Gaming Friendly HTPC Build Guide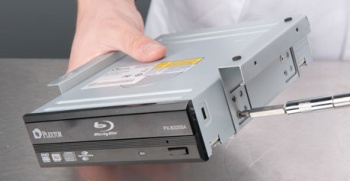 I love PC build guides. I always find it interesting to see how someone approaches a build, the parts they choose to achieve a particular purpose. Building a PC is always about balancing compromises. The idea of an HTPC that purposefully eschews TV tuning capabilities seems like a waste of perfectly good hardware, but building an HTPC around the base of a solid gaming system is intriguing. I prefer gaming on the PC, but I have trouble imagining a PC being better suited to gaming in the living room than an Xbox or PS3. Anyone else prefer fragging with a mouse and keyboard from the couch?
We've built our fair share of home theater PCs in the past, with all sorts of different use cases in mind. Our August 2010 HTPC was a stunner built for 3D, with passively cooled GPU, CPU, and PSU, as well as a four-channel CableCard tuner and Blu-ray 3D support. In June 2011, Gordon tried to make a small-form-factor HTPC that could cut out the previous build's bulk (and CableCard) while still supporting Blu-ray 3D. Both of those rigs handled their respective tasks well, but what if I don't care about cable but do care about gaming?