XBMC Team Begins to Open Up on XBMC 11.0 "Eden"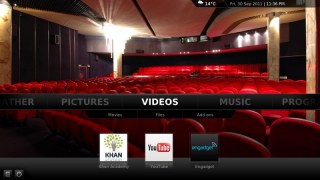 I've never been a regular user of XBMC, but I happened to be up late last night testing an XBMC install for a special project and noticed a message on the RSS ticker announcing a feature freeze for "Eden". Being otherwise occupied, it took me until today to follow up on the XBMC blog. Sure enough, XBMC 11.0 "Eden" is on the horizon, the project is in feature freeze to facilitate build completion, and the XBMC team is planning to gradually unveil the new release's features on their blog.
So much has changed since Dharma, we'll use this space over the coming weeks to discuss in more detail what you can expect in 11.0. For now, Here are a few things you're sure to notice:

A new "Files" view in the video library in order to remove the notion of Library Mode vs. Files Mode that confused so many new users.
The default skin changed to a horizontal layout allowing for more useful information to be displayed on the home screen (vertical version is still available in Add-ons)
Efficiency improvements to reduce high cpu/gpu usage
Every time I use XBMC I find something new to appreciate, so I am definitely looking forward to seeing where Eden takes the project. I know already that I like the new emphasis on a horizontal layout. Any XBMC users excited about what Eden is going to be bringing to the table?