Ceton InfiniTV 4 USB Now Shipping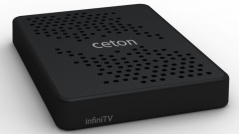 The long awaited USB version of the Ceton InfiniTV 4 has finally started shipping. For those of you running low profile, mini Home Theater PC's you can now get your hands on the USB rendition of the famous quad tuner.
Everything you can find on the PCI-E version of the InfiniTV 4 is what you can find on the USB tuner. Head over to Ceton for the full press release.
InfiniTV 4 USB brings the award-winning InfiniTV technology to an external device that will run on any compatible Windows 7 PC with an available USB port. So whether you have a Laptop, All-in-One, Tablet, Desktop, Home Theater PC or Entertainment PC — or just prefer something you can plug-and-play and move from PC to PC — InfiniTV 4 USB is a great solution for turning your PC into the world's coolest set-top box.