Best Buy Ruins Surprise: Sirius XM's Lynx Receiver Coming Soon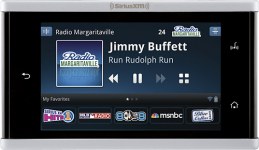 As a general rule of thumb, companies work hard to control the message when launching a new product. Lucky for us, it seems like we can always count on some retailer's website to spill the beans ahead of a release. Not that the SiriusXM Lynx receiver is a complete mystery product. SiriusXM had previously indicated that a "Satellite 2.0" receiver would be available by 2013 and the FCC has let some info spill along the way. As the first receiver intended to work with all of the merged company's satellites, satellite radio fans have been expecting it for a while, but SiriusXM had been tight-lipped about confirming a release date, features, and pricing.
As you can see, it relies on a touchscreen interface for the most part and, even more interestingly, it apparently runs some sort of custom version of Android — although we wouldn't recommend getting your hopes up about Android Marketplace access or the like. You'll also get a microSD card slot to load it up with your own music, and it can be used in conjunction with your choice of a car kit, home kit or portable speaker dock (not included).
Hopefully being based on Android will allow SiriusXM will reiterate the software and add functionality to the Lynx over time. It probably won't happen, but I think there is a market for a satellite radio receiver that also includes access to Internet radio services.