SiriusXM 2.0 Goes Streaming with iOS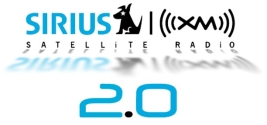 It's been a couple of months since the first SiriusXM 2.0 radios launched, and SiriusXM has decided to spread the 2.0 love to some streaming-only mobile devices. First up will be the Apple iOS devices. The new DVR-style features enabled by SiriusXM 2.0 are a good fit for Internet streaming and the new streaming control options for switching channels and skipping tracks put SirusXM in a better position to compete with Pandora and its ilk. The idea of future in-car receivers being equipped to support SiriusXM 2.0 over mobile Internet does raise some interesting questions about the need for the company's satellites down the road. Unfortunately, it looks like the new app may have lost the AirPlay capabilities of the old app, but hopefully I am simply missing it in the screenshots I have seen.
The promised SiriusXM 2.0 experience looks to have arrived. At least on iOS platforms, such as my iPhone. While the satellite radio provider has always provided access to a broad range of programming, they're now delivering the sort of end-user control typically provided by online streaming services like Pandora or Slacker.