ASUS E35M1-M Pro Reviewed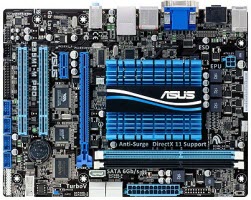 I've mentioned before that, for whatever reason, the recent launch of the AMD E-350 Zacate chips did not excite me as much as the E-300 launch did. Perhaps it was the release of the 35W Core i3 processors or the Celeron G500 processors that put a damper on the diminutive Fusion chips. That being said, ASUS has put together a very attractive option here. With a street price around $120 and a plethora of SATA 6Gps ports and expansion slots, I could see this fitting quite nicely into an HTPC server machine, not to mention the silent PC build possibilities.
Whilst CPU or GPU intensive tasks are out of the question with a Fusion based system, Fusion boards do have their own advantages such as ultra low power consumption devices, which allow the APU to be passively cooled for a truly silent PC. The optional supplied micro-fan does not add much noise into the equation for low usage, but each end user may or may not want the noise in the background.