Pioneer Elite BDP-HD1 Blu-ray Disc Player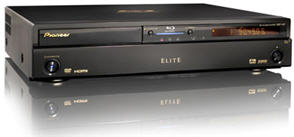 Continuing our morning of A/V reviews, we have Sound And VIsion's review of Pioneer's Elite Blu-ray player. Pioneer's $1500 entry into the Blu-ray market has a lot going for it including 1080p/24f output, a wide array of media csupport, and network PC connectivity support. However, for this much coinage it is missing a few critical features. The most obvious one is the lack CD play back. Other drawbacks include no support for lossless HD audio and no support for BD live. Not to say this is Pionner only problem, many of the first gen players suffer this problem. I would hold off until support for BD live and HDMI 1.3 are sorted out.
From the review:
If your main goal is getting top-notch video
performance from a Blu-ray Disc player, Pioneer's BDP-HD1 is the one to
buy. Of the four players I've tested so far, this model was by far the
picture-quality standout. But compared to the other available models
out there, it's light on features, including some real no-brainers like
audio CD playback. Would I spend $1,500 on a Pioneer Elite BDP-HD1
Blu-ray Disc player? Given its current limitations, I can't say I'd be
champing at the bit. But early adopters are a single-minded lot, which
is why Pioneer will undoubtedly move its stock of BDP-HD1s into
high-end home theaters as fast as it can produce them.