Dune HD Smart H1 Media Streamer

Connected media streamers, like the pair from Roku and NETGEAR that we reviewed recently, focus on providing access to IP content but generally cannot handle local media well enough (if at all) to be a viable unifying solution. Until we have enough bandwidth, and services able to deliver quality audio/video services over the Internet, those devices act as a supplement to players like the Dune HD Smart H1 that we will look at today. Locally cached content includes a diverse set of file types and formats, so H1's support for disc-less Blu-ray, M2TS, MKV, and all of the codecs commonly found within is an essential starting point.
The Device
Specifications:
| | |
| --- | --- |
| Dimensions: | 5.59″ (142mm) W x 2.56″ (65mm) H x 10.87″ (276mm) D |
| Processor: | Sigma Designs 8642/8643 SOC (system on a chip) |
| Input: | 4 x USB A (2 rear, 1 front, 1 internal), 2 x SATA (E-SATA rear, internal SATA), 1 x SD (front) |
| Connectivity: | 1 x 10/100/1000 (experimental) Ethernet (also supports USB wireless dongles) |
| Output: | 1 x HDMI 1.3a, 1 x S/PDIF (TOSLINK), 1 x Component Video, 1 x Composite Video, 1 x Stereo Audio, 1 x USB B (rear – use the H1 as a USB hard drive) |
| Video Codecs: | MPEG2, MPEG4, XVID, WMV9, VC1, H.264 |
| Audio Codecs: | AC3 (Dolby Digital), DTS, MPEG, AAC, LPCM, WMA, WMAPro, EAC3 (Dolby Digital Plus), Dolby True HD, DTS HD High Resolution Audio, DTS HD Master Audio, FLAC, multichannel FLAC, Ogg/Vorbis |
| CC/Subtitle Formats: | SRT (external), SUB, plain text (MKV), SSA/AAS (MKV, external), VobSub (MP4, MKV, external SUB/IDX), PGS (Blu-ray, M2TS, MKV) |
| File Formats: | MKV, MPEG-TS, MPEG-PS, M2TS, VOB, AVI, MOV, MP4, QT, ASF, WMV, ISO (Blu-ray and DVD), BDMV (Blu-ray folder), VIDEO_TS (DVD folder), MP3, MPA, M4A, WMA, FLAC, APE (Monkey's Audio), Ogg/Vorbis, WAV, DTS-WAV, DTS, AC3, AAC, JPEG, PNG, BMP, GIF, M3U, PLS |
| File Systems: | FAT16, FAT32, NTFS, EXT2, EXT3 |
With a detailed list of the features and container/codec supported, the Dune HD Smart H1 arrived in a box best described as "Retail Geek". Having previously only seen the device itself in photos, the length was a bit surprising, as I expected a more compact chassis – something slightly larger than a 3.5" hard drive. The size will not be a limitation per se, as it will easily fit inside an A/V cabinet, but in a more confined environment without dedicated space for media devices (like a bedroom), it could make concealing the H1 difficult. That said, the form factor and fascia were otherwise greatly appreciated; especially the muted power LED on the front panel which, oddly, is red when the device is off but does not display anything when powered on. Like the BD Prime 3.0, the HD Smart provides full support for Blu-ray (BD) menus but requires users to add "System Storage" to the device to take full advantage of the feature. Generally, this takes the form of a USB flash drive attached to the rear of the device or placed within, which unlike the Prime, is accessible to the dexterous through the 3.5" hot swap hard drive door without removing the top (and thereby potentially voiding the warranty). Those lacking petite hands or an adventurous spirit have the option to use a Secure Digital memory card instead with the H1. Adding the storage space necessary for proper BD playback is not difficult, but given the price of the player ($250) and the cost of 2GB of USB flash memory, it should be included.
Getting the first-run right is very important; and unfortunately my initial HD Smart experience was not perfect because it defaulted to a 50Hz resolution that my HDTV (a Panasonic TC-P58VT25) does not support. To be fair, this issue and the solution (press "Mode" and the number corresponding to a video output mode supported by the display; in this case "5") are explained in the manual, and Mike was very gracious when he suggested this as a solution without a deserved RTFM. That said, HDMI displays provide their capabilities in the EDID to avoid these kinds of problems and reduce risk to lazy end users (myself included).
With a supported refresh rate selected, the UI became visible and player automatically checked for a firmware update. It is safe to ignore warnings about the lack of "System Storage" for now because creating it has been streamlined in recent firmware versions, but some local storage is required for the process to succeed; a USB flash drive or SD card is sufficient.
Use
After the firmware updates, a trip to the settings area is required to, at the very least, initialize the attached USB/SD memory as "System Storage" after formatting it from the "Sources" screen. There are many other settings that enhance playback, but for most the right choice will depend on the other hardware connected to the HD Smart, so every screen and setting is captured in the gallery above. For example, if the display supports 24p, selecting a value beginning with "24" from the "Auto framerate" setting of the Video settings section is ideal. HT geeks who want to specify everything will appreciate the sheer volume of knobs and dials available because the level of detail and control is fantastic, especially when it comes to audio and video output, but some are confusing because of their caveats (i.e. selecting RGB output does not universally change color space; BD playback reverts to YCbCr 4:4:4) or lack of function (i.e. enabling HDMI CEC does nothing). Also, given that the device supports some degree of refresh rate matching, the lack of an automatic "source direct" for native video output is notably missing. With the results observed in the HQV-HD benchmark (discussed later), users can realize a clear benefit from being able to push video processing functions like deinterlacing, noise reduction, and scaling to a downstream device without user intervention.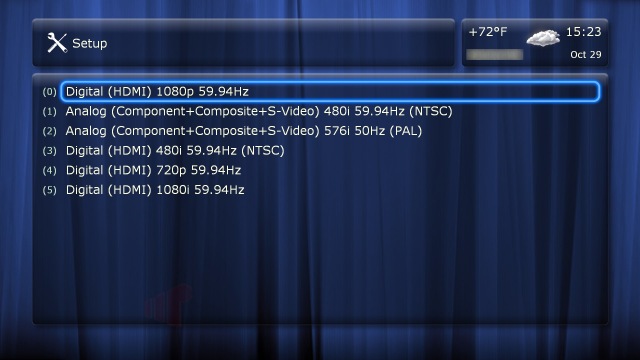 It is possible to work around the lack of automatic source direct by leveraging the "Mode" + # method mentioned earlier, as long as it is set before initiating playback. While this method works well, it is an inconvenience that, if addressed, would greatly enhance the appeal of the HD Smart lineup.
The Dune UI has improved since our look at the BD Prime, and now supports different themes and more granular control of the display and function of the visual elements. However, media navigation is still folder-based, which just like Windows Explorer, shows everything in the directory being browsed, including album/fan art. Therefore, the largest missing feature remains the lack of a native content type aggregation browser, aka "Media Jukebox", commonly found on many competing devices. For some types of media where it is practical to store everything in one top-level folder, like music and photos, this limitation is tolerable, especially because it is easy to add specific sub folders to the "Favorites" pivot; as there is not an option to launch directly to that tab, an opportunity to streamline the experience is lost as navigation always begins with "Sources" after powering on the HD Smart.
Adding network shares to the "Sources" area is straightforward, and for those with just a few media folders, this approach will work well enough that seeking an external solution is just a nice-to-have. But for those with children or multiple content entry points, where tracking the location of specific items is difficult, it will be necessary to find another approach.
Fortunately, there are a few options available to address this functional gap. Two are shown in the gallery above: Zappiti and My Movies. Both offer multiple media pivots and automatic metadata/fan art retrieval to make the process of adding content and navigating to it on the HD Smart seamless. I preferred the more automated approach, movie trailers, and a greater level of metadata completeness of My Movies, but because it is not completely free, many users may find Zappiti to be a superior solution as the difference is not that significant.
The HD Smart offers support for some over the top (OTT) services including: RadioTime, SHOUTcast, and some European IPTV services but sadly we cannot include Netflix, Amazon Instant Video, or VUDU in the group. While it is unfortunate that we do not yet have a single solution for all media consumption, few streamers in its class can match the functionality provided by the HD Smart when it comes to local video playback. The device offers menu support for decrypted BD and DVD sources as well as flawless 1080p AVC/VC-1 decoding and proper handling of luminance with blacker-than-black (BTB) and whiter-than-white (WTW) passed to aid in calibration. A wide array of internal and external subtitle options are supported as well, including PGS (BD subs) in M2TS and MKV to round out the experience. Audio support is also excellent, with options for configurable down-mixing during decoding as well as the option for bit streamed HD codecs over HDMI. Channel counts during decoded playback are set correctly, so more options are available to those using an audio video receiver (AVR) when listening to music. Oddly, issues were noted with two files with DTS-MA (Captain America & Quantum of Solace). where the audio would occasionally drop out; selecting decoding or bit streaming did not affect the result. Other content with DTS-MA did not exhibit this behavior, so the root cause may be difficult to track down.
Navigation within video content is also well supported with multiple options available:
P+/P- buttons move the current position 10 minutes
Up/Down move the current position 1 minute
Left/Right buttons move the current position 10 seconds
0-10 number keys change the current position to the percent (0=0%, 5=50%, 10-100%) in the file's timeline
Search button displays a dialog that can be used to move to a specific time during BD playback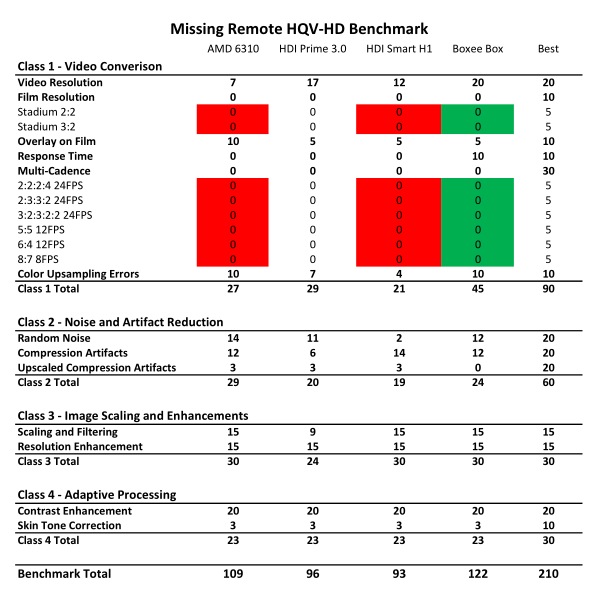 When evaluating HQV-HD scores, it is important to remember that while numbers are produced, the outcome is still somewhat subjective and open to interpretation so results should only be evaluated within the context that created them and are not directly comparable between displays or reviewers. With that said, the results above clearly indicate that the HD Smart struggles with cadence detection (important for deinterlacing), noise reduction, and upscaling so it is ideal to push video processing downstream by utilizing native video output for non-1080p content.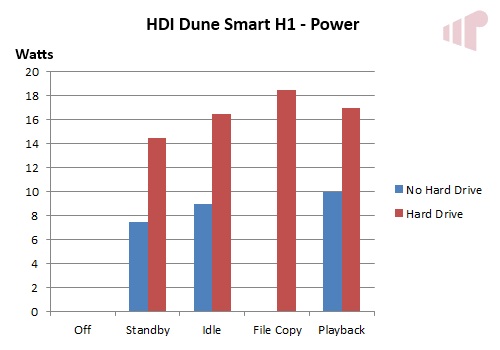 Among the many settings available, the HD Smart offers users the option to choose between standby or a true power-off when initiating shutdown via the remote or front panel power button (with the difference in energy consumption noted above). When off, the device takes just over 35 seconds to load, and around five when standby is enabled; I found the 30 second wait to be worth the power saving, but the impatient or those wishing to use the device as network attached storage (NAS) or enable its BitTorrent feature will most likely feel otherwise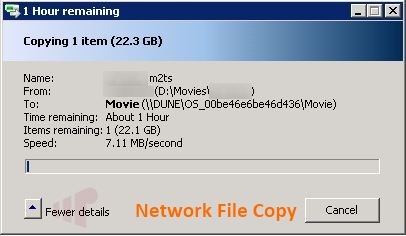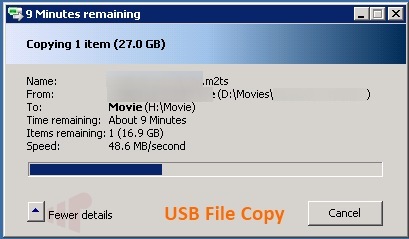 Support for a hot swappable 3.5" SATA hard drive is the H1's main distinction from other members of the HD Smart family. The feature was tested with a 1TB 7200RPM Samsung F1 and I found it to work exactly as it should, both for network and USB attached storage. NAS usage was a bit sluggish to support multiple clients, most likely a limitation of the device's 100Mbps NIC, but USB speeds were consistent with other 2.0 external enclosures. This, combined with its portability and support for multiple audio/video output options, make it an excellent way to Sneakernet content in a consumable way to almost any location.
With hard drive performance limited by the interface, and given that the H1 does not include any active cooling, a "green" drive would be a better choice than what was used in testing as the drive reached an uncomfortable 135.5° F/57.6° C after watching a two hour movie.
Conclusion
Offering full Blu-ray menu support and a "Just Works" playback experience for almost every kind of codec/container combination, the Dune HD Smart H1 is an excellent option for video playback in the main home theater as well as a portable take-your-content-with-you device because of its support for 3.5" SATA hard drives and legacy displays. The device's video processing capabilities are a drawback, but since it provides the ability to offload those duties, the main issue is with the lack of automation around that feature.
Pro:
"Just works" video playback including M2TS, MKV, ISO, BDMV and Blu-ray menus
Automatic refresh rate matching
Multiple media jukebox options
Portable video player solution
Component (YPbPr) output
Con:
OTT support is very limited
Source direct/native output mode is not automatic
First run experience can be frustrating
Thanks to HDI Dune and DunePlayer.com for the review sample.