Samsung Spins Off LCD Division, Doubles Down on OLED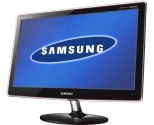 Last week Samsung let slip that it was considering different ways to restructure is LCD division. Despite selling more flat-panel TVs than any other company in the world last year, their display business was responsible for more than $800M in losses, mostly due to price weakness in the LCD market. The LCD division will become a wholly-owned subsidiary of Samsung Electronics, forcing the new company to stand on it own financially, but leaving Samsung with the option of reabsorbing the company should the LCD business prove to have more legs than expected or strategically folding it into other Samsung subsidiaries as markets shift or consolidate. As expected, Samsung is putting its weight behind OLED for the future of displays. Samsung is certainly bullish on OLED's chances of displacing LCD in mainstream televisions, especially given that we still do not know how Samsung plans on pricing their first OLED HDTVs this year. Assuming OLED works out as well as Samsung thinks, how many years before it wrests the market from LCD?
Independent operation as a company specializing in display panels going forward, is expected to enable Samsung LCD business to achieve continuous growth by strengthening its competitiveness based on the select and focus strategy and taking an advantageous position in the future display market ahead of competitors; reinforce its technological competitiveness; enhance speed in investment/strategic decision-making process; and establish autonomous and responsible management.