New Plugin for Using a Ceton InfiniTV 4 Tuner with XBMC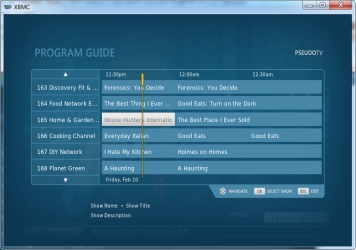 It is no secret that we like the Ceton InfiniTV 4 CableCARD tuner around here or that we are always looking for new and interesting ways to make use of our favorite media front-ends such as XBMC. Thanks to mcheng89 in the XBMC forums, we can now make use of the Ceton InfiniTV 4 in XBMC. He has put together a modified version of the PsuedoTV plugin that allows XBMC to tune into the InfiniTV 4 with a little help from VLC. By building on PsuedoTV, the plugin includes a customizable EPG. It is not a complete DVR solution, but it is an interesting option for tapping into live TV from XBMC and especially from XBMC-compatible devices such as the Apple TV.
Some clever hacks over on the XBMC forums have managed to get Ceton's infiniTV 4 working with XBMC. With the plugin you can stream video from Ceton tuner, share a tuner with multiple clients, stream TV over the Internet and using PseudoTV you can get a user interface to control it.