ZOTAC ZBOX AD04 Plus Reviewed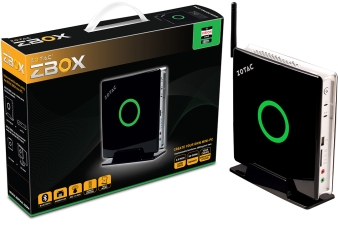 ZOTAC got the ball rolling early at CES this year by announcing their 2012 lineup of ZBOX PCs and barebones. The ZBOX systems are extremely compact mini-PCs, well-suited to use as HTPCs. Indeed, the ZBOX AD04 Plus reviewed here even comes with a WMC-compatible remote control and a bracket for mounting the system to the back of a monitor or TV. The ZBOX AD04 is an AMD E-450 based system and the Plus designation indicates that this particular model comes fully equipped with 2GB of DDR3 memory and a 320GB hard drive. The packed in remote control does not appear to be anything to write home about, but the system did handle all of the HD content thrown at with aplomb and might be a solid choice for folks looking for a compact, low-power HTPC. It might also be worth opting for the barebones version of the AD04 and slipping in a faster hard drive.
Now we are starting to see a number of ultra small systems updated with the latest AMD E-450 dual core APU which features CPU and GPU in one compact design. A front runner in this market is the latest ZBOX from ZOTAC, the AD04 Plus and we have one of the first samples on our review bench today.