Zotac Announces D2700-ITX WiFi Supreme Motherboard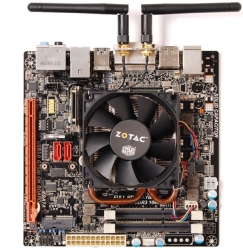 Zotac kicked off CES by showing some barebones HTPC love with the new Zbox lineup, but today Zotac gave some DIY HTPC love with the announcement of the D2700-ITX WiFi Supreme. Like most of Zotac's mini-ITX motherboards, the diminutive board is packed to the gills with features and connectivity options. As you may have guessed from the name, the D2700-ITX WiFi Supreme is running an Intel Atom D2700 Cedar Trail processor, but it also running an Nvidia GeForce GT 250 for the GPU. Hopefully it will make for a potent combination. We'll let you know if we hear anything more about pricing or availability.
The little board also has a pair of DDR3-1066 RAM slots that support up 4GB of RAM. Connectivity includes HDMI, DVI, and DisplayPort. The board also has dual USB 3.0 port, a combo mini-PCIe/mSATA slot used by the Wi-Fi module, and Gigabit Ethernet connectivity. The chipset on the board is the Intel NM10. Pricing and availability are unknown.