Xtreamer Announces 2012 Lineup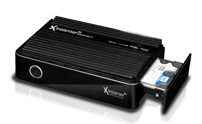 Xtreamer has announced their 2012 lineup of media streamers. We've got sequels to the Xtreamer Sidewinder and Xtreamer Ultra along with updated Prodigy streamers in black and silver. There is also a new entry-level streamer, the Xtreamer Elvira. There are also a some new accessories, including an interesting looking wireless mini-keyboard. With their focus on Asian and European markets, I still haven't had an opportunity to play with one of Xtreamer's boxes, but I wouldn't mind taking their Elvira out for a night on the town.
Coming in March of this year is a European Shop. Quote from the Xtreamer webpage is "Order directly at Xtreamer and get your products via an Europan Hub. No customs to pay at your door. Shorter delivery terms and a contact person who is familiar with your customs.