Samsung Press Conference – CES 2012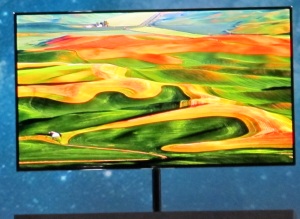 Samsung sure knows how to run a press event, and to be honest it was an easy sell because they announced some amazing TVs (although Panasonic did sure did their best to make 3D and 3DTVs incredible boring, so boring that I'm going to save any comments until tomorrow when I get a chance to see the TVs up close). Speaking of TVs, there were two announcements that were really interesting: first, the 55″ OLED shown here and the 75″ ES8000, which if the reality is anything like the photo shown in the presentation – it will be a incredibly slick looking HDTV display.
Click through for gallery and other highlights.
Samsung's updated Smart TV platform will be back ported to 2010 and 2011 displays
2012 models will include a PCMIAish slot on the back of the display that allows for future upgrades if new hardware is required to make the new platform work
The ES8000 (top of the line LCD) runs on a dual-core CPU which Samsung claims will allow for a better multitasking between apps running in the display (the presenter said that you won't lose context when switching apps, so a vast improvement over anything I've played with)
The ES8000 comes with a built in camera which is used to create personalized user profiles using face recognition
The ES8000 can be controlled via voice and gestures (Kinect style)
I need to reserve judgement for when I see the 55″ OLED up close, but it looked really amazing (there are few shots in the gallery).
All of their LCDs must have been running in torch mode because the colors were over saturated and completely blown out (yeah I know it's a nitpick, but it was annoying :)).