Unity Home Theater in a Box brings a new Stand to the Livingroom – CES 2012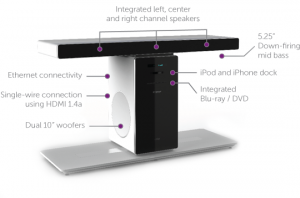 We looked at a in2technologies Engage Unity at CES with it being a different type of Home Theater in a box. This is a system that you buy and it snaps together with three pieces and gives you a surround sound system without any wires. It also gives you a stand your TV of any size, and a built in blu-ray player. They also say it will allow you to use a single remote, and control any television. Unity will give you left, center, right, two downfiring mid-channel, two ten inch subwoofers, and 2 virtural surround sound speakers. They are not releasing any details on what technology the back speakers will be, but they are currently testing all options.
They told us they are trying to release the product around the mid-2012 and they are going to be releasing it in as a black version and as a white version. They where not willing to release any ideas of power from the speakers and cost.
There is a lot of possibilites with this unit. They could expand the line and add in a HTPC into the center box, or they could add some shelving to allow for more addons. This is directed on to the consumer that wants to keep the cords down the 2 with just power and HDMI. We will keep an eye on this unit.