Asus O!Play Mini Media Player Reviewed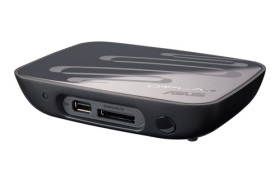 Asus has been quietly selling the O!Play line of media streamers for a few years now. It's been awhile since we had an O!Play in around here for review, and I would imagine they have advanced a bit. Certainly they have gotten smaller as evidenced by the O!Play Mini in this review. The O!Play Mini is not a network streamer, relying instead on its USB port and 4-in-1 card reader for content, so it definitely is not the media streamer for everyone, but it might be worth a look as an inexpensive streamer to take on the road or for placement in an environment that may not necessarily require access to Internet streaming such a child's room or home gym.
As the name suggests, this media player is small and lightweight, making it easy to tuck away anywhere. Unlike it's big brother though. the Mini doesn't offer internal HDD support or USB 3.0. Don't let that deter you though, because it looks very promising.