Toshiba Announces 4K 3DTV for U.S. in Q1 2012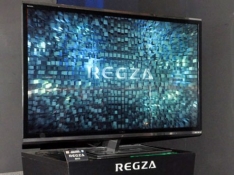 If LG's upcoming 84″ 4K TV is too big for your living room, then Toshiba wants you to know that they have you covered. Toshiba has announced that they are planning to bring a 55″ 4K 3DTV to the U.S. in the next few months. The 3D will run at a relatively measly 720p, but it will be autostereoscopic, so no glasses needed. I hadn't realized that Toshiba was already selling a similar set in Europe and Japan. Given that the price of those sets suggests that the U.S. version will run around $10,000, I am even more curious about how LG will price it's behemoth. Anyone with heavy wallets ready to make the leap to 4K this year?
Details were scarce and Toshiba hasn't provided a price yet, but if you're curious what other specifications might be on tap, look no further than Toshiba's existing Regza 55X3 and 55ZL2, which cost upwards of $10,000 in the aforementioned countries. You can also read our impressions of the Toshiba 55ZL2 when we saw it at IFA in September.