Shared Guide Potato Updated to Version 1.1.7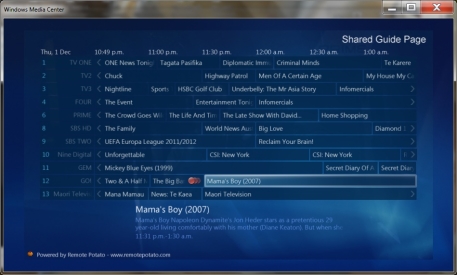 I had not heard of Shared Guide Potato until just recently, but if you are still pining for the ill-fated Softsled, then this one is for you. Shared Guide Potato pulls double duty as a plugin for both Remote Potato and Windows Media Center. Remote Potato is a favorite around these parts. If you're not familiar with it, Remote Potato provides remote access to your WMC via your browser or mobile app to stream content, browse the EPG, and even schedule and manage your recordings. Shared Guide Potato is a plugin for WMC that adds a shared guide to WMC that talks to Remote Potato running on another machine. This allows you to use Remote Potato through the Media Center interface, scheduling and recording TV on one central computer. It is not a complete Softsled-style solution because you still need a local tuner for live TV, but it might be as close as we ever get.
Shared Guide Potato was recently updated to version 1.1.7 after a flurry of updates from developer Mark Meyer. The most recent updates have added the ability to change the channel on a remote machine through the shared guide and an advanced recording option for scheduling programs before they appear on the EPG.
I have developed a media center addin for remote potato. This allows you to access your guide from a remote pc. The benefit of this is you can have one central recording box and view the guide and scheduled recordings on other pc's. It's a step towards softsled.