Comcast and Disney Sign Agreement for TV Everywhere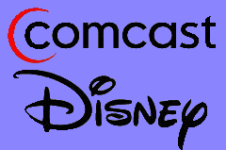 Disney has been in a serious deal-making mood these last few months. First they hooked up with Roku, then they went big with YouTube. Now they've signed on for a 10 year deal with Comcast that will see almost all of Disney's networks made available on Comcast's Xfinity streaming and VOD service. If you can name a Disney, ABC, or ESPN network, it is probably included in this deal. Perhaps the most interesting part of the deal is that it evidently allows for streaming outside of one's home network. This is a move that most other networks have resisted. Guess Disney really is interested in people consuming their content. Of course, part of the difference might be that two companies seem to have come up with a smart system for Comcast subscribers to authenticate their account and gain access, but still use the networks' branded apps. Could be a model for future such deals.
Comcast just struck a huge new agreement with Disney that will give it access to a wide range of content from ABC, Disney and ESPN networks across a number of screens and platforms. The 10-year deal also stipulates that the companies will collaborate on developing interactive applications for the next generation of devices.