ASRock A75M-ITX Motherboard Reviewed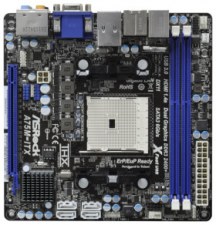 ASRock has been a solid supporter of AMD CPUs over the last couple of years as evidenced by their high-end Fatality-branded motherboards. ASRock has also been a solid supporter of the Mini-ITX format. The A75M-ITX brings AMD and Mini-ITX together in one compact package. The lack of overclocking support shouldn't be much of an issue for anyone looking for an HTPC kit, and AMD has arguably done a better job of supporting newer technologies such as USB 3.0 and SATA3 than Intel. I like the inclusion of MKV playback testing. Given the growing popularity of the format, I hope we will see more reviews including MKV playback results, particularly for integrated graphics.
Today we are going to look at the ASRock A75M-ITX motherboard which is aimed at the small-form-factor market. As its name suggests, the motherboard is Mini-ITX which makes it ideal to use within a compact HTPC.

We can also deduce from the product name that this particular motherboard features AMD's A75 Fusion Controller Hub, meaning it supports the latest USB3.0 and SATA-600 interfaces.