VIA VE-900 Mini-ITX Motherboard Released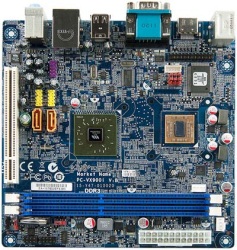 Intel isn't the only CPU manufacturer launching new platforms. VIA recently announced the VE-900 Mini-ITX motherboard geared toward low-powered media PCs. VIA doesn't get alot of attention these days, but they have been focused on small integrated systems for a while now. The Nano X2 processor and VX 900 media processor that team up on the VE-900 board probably wouldn't satisfy my expectations for the living room, but I could see the VE-900 fitting nicely into a bedroom HTPC build.
It's capable of playing back Full HD 1080p video and also supports high fidelity surround sound through the VIA VT1708S HD audio codec, which supports 24-bit stereo and up to 192kHz sample rates. There are two DIMM slots that support up to 8GB of DDR3 memory, two SATA ports, and a standard PCI slot.