Lenovo N5902 Multimedia Remote with Keyboard Reviewed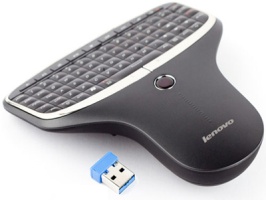 Lenovo is taking a second stab at building the ultimate HTPC remote control with the N5902 Multimedia Remote with Keyboard. There are a number of companies making tiny wireless keyboards that have been marketed to HTPC enthusiasts. Most such devices are about the size and shape of a cell phone, but the Lenovo keyboard remote is the first I have seen that seems to have been designed with one-handed operation in mind. I would have preferred to see one of Lenovo's classic ThinkPad nubs instead of a tiny trackball, but I do like the idea of a keyboard that I can wield like a remote control. In most cases I really only need to thumb a couple of keystrokes to complete a search or type in a URL. I know that for many folks the lack of a dedicated Green Button is going to be serious knock against Lenovo's little remote keyboard, but I suspect that its absence won't be missed quite so much with Windows 8.
I must say that I enjoy the new graphite finish of the N5902 much more than the N5901's glossy black that seemed to latch on to fingerprints. The underside is also matte, but replaces the topside's luster with a duller, lightly rubberized grip that does well for minimalist utility. Rounding up the visual splendor of the remote is the new chrome ring surrounding the keyboard, which also doubles as the left and right mouse buttons just underneath the space bar.