Google TV Gets Google Music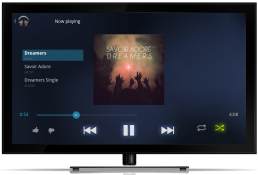 Google's not wasting any time spreading the Google Music love. A day after announcing their newly revamped and expanded Google Music service, the Google Music app is already spreading out to various Android devices, including Google TV. Google TV's Google Music app looks to be a slick way of syncing up with Google's cloud and streaming your music collection. The Google Music app will also play in the background while other apps run.
These are the instructions: go to music.google.com on your computer, sign up for the free service, upload your music to the cloud or buy music on the Android Market. Once done, you can play all of your songs on Google TV as easily as you can do on your computer, smartphone or tablet.
Just out of curiosity, does anyone else think Google needs to mix up their branding scheme a bit more? I know that Apple has gone a bit overboard with its "i", but there was a whole lot of "Google" in that paragraph above.