Comcast Takes Detour to Barcelona Enroute to Xcalibur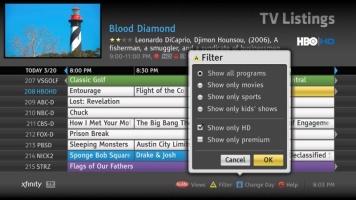 Comcast is still working on their app-like Xcalibur settop box UI, but evidently Comcast feels they need something to hold folks over until Xcalibur arrives. Comcast was recently showing off their revamped high definition guide, codenamed Barcelona. It's already rolling out in select markets and will be going wider before the end of the year. Like other HD UI overhauls we've been seeing companies roll out, the Barcelona UI upgrades the guide to take advantage of the extra screen real estate that comes with 16:9 televisions. I have to say though, it is a bit disappointing to hear that Barcelona has been four years in the making.
Other new features include the option to filter listings down to HD, premium, kids, movies, or sports content, easy jumping between days and saved searches. When we first laid eyes on another version of the software nearly four years ago we were impressed by its slick looks, but while it's still a major upgrade over the current decade-old cable box interfaces, in 2011 it takes more than a simple facelift to impress us.