Video Demo of Xbox Companion App Hints at Possible VUDU on Xbox 360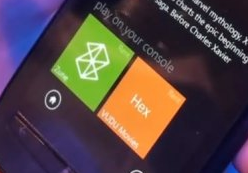 A few weeks ago Microsoft dropped the veil on its Xbox TV plans, and at the same time released a video that provided a glimpse of the previously unannounced Xbox Companion App for Windows Phone 7. A few days ago Microsoft and Nokia had a big shindig at Nokia World to show off Nokia's new Windows phones and Microsoft posted a couple of video demos of the Xbox Companion App up on the Windows Phone Blog.
A few weeks back I told you about the Xbox Companion App for Windows Phone, a handy (and free!) utility that let you find, learn more about and control content from Xbox LIVE Marketplace on your Xbox 360 straight from your Windows Phone. Today on the floor at Nokia World the Xbox team was showing it off, so I thought I'd take the opportunity to shoot a demo so you can see how it actually works.
The videos show some nice integration and are well worth checking out even if you don't have a Windows Phone 7 phone and an Xbox 360. I meant to write about the video when it first popped up in my RSS feed, but I was having some trouble getting it to play back on my Windows 8 DP test machine and put it off until I could watch it on another machine.
Then I forgot about it.
In the meantime, the folks over at Engadget gave the video a once over and noticed something that, honestly, I probably would have missed.
Also seen in both of the demo videos? An orange tile suspiciously labeled Vudu Movies, despite the lack of any official announcement that the (currently PS3 exclusive) Wal-mart owned service is coming to Xbox Live.