Thailand Flooding to Crimp Hard Drive Supply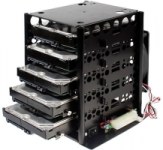 Hard drives don't get a whole lot of attention these days. All of the excitement is reserved for those new-fangled SSDs. There are reviews aplenty for CPUs and motherboards. Even power supplies tend to get more love than hard drives, but where would our HTPCs be without the stack of hard drives holding our movies and TV shows.
Thailand has been dealing with tremendous flooding for weeks. The immediate human toll has been devastating and the damage being wrought to Thai factories is going to impact manufacturers around the world, including hard drive manufacturers. It sounds like it might be a good time to work on living within your current storage means as hard drive component shortages are likely to put a crimp in more than just the number of units shipped. It's likely to mean a crimp in your wallet, too.
The flooded buildings in Thailand include Western Digital's HDD assembly test and slider facilities, where a substantial majority of its slider fabrication capacity resides. In parallel with the intermittent slider shortages resulting from the above disruption, WD is also experiencing other shortages on component paths from vendors located in several Thailand industrial parks that have already been inundated by the floods or have been affected by protective plant shut downs.
We can expect supply chain pressures on the affected hard drive manufacturers to have a ripple effect throughout the storage industry. Western Digital looks to be disproportionately affected, but steady or rising prices of Western Digital hard drives will mean that other manufacturers will have a choice to make. Will Western Digital's competitors, or even SSD manufacturers, see this as a chance to build marketshare with some pricing pressure, or a chance to cash in?