Microsoft Looking to Kinect to Move TV from Smart to Interactive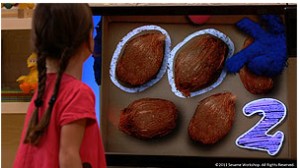 My kids love playing games with the Kinect, especially if it involves slicing fruit. My kids love using the Kinect to navigate the Xbox interface, especially if it involves shouting commands at the TV. Unfortunately, my kids are a bit old at this point for Sesame Street, because they would have loved helping Grover count coconuts.
Microsoft held a press event in New York today to show off a variety of what Microsoft is calling "playful learning" experiences, primarily geared toward young children. There were the usual assortment of video games. There was a demonstration of interactive storybooks that seem like a natural extension of the CD-ROM based interactive storybooks that have been a staple of school computer labs for years. The most intriguing demonstration involved Sesame Street and National Geographic television programs that incorporated interactive elements powered by Kinect.
What does this look like? Well, I remember a few years back, sitting with my daughter as she watched Sesame Street. Lots of times, when Elmo or Ernie or some other character would ask a question, my daughter would answer it. She talked to the characters and interacted with them, but they never answered or acknowledged her… Now, thanks to Kinect and Xbox 360, kids will be able to interact with the characters, and actually see themselves onscreen as part of the action.
Microsoft's B-Roll video from the press event provides some idea of what this interactive television concept looks like. It is obviously a bit light on specifics, particularly about what kind of back-end is necessary for television programs to incorporate these elements, but it is enough to show how it might work. It also shows enough to imagine the possibilities for interactive elements that would appeal beyond the preschool set.  If this really is the ultimate vision for Xbox's live TV service, then Microsoft has identified the definitive differentiator for their consoles going forward.