Sewell InjectIR – IR over HDMI Remote Extender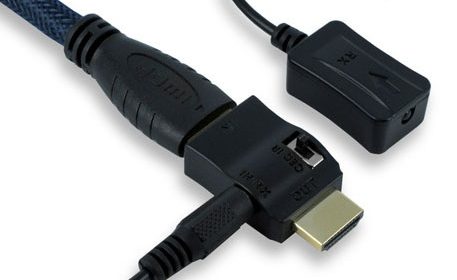 Those of you with older television cabinets or mounted televisions know the difficulty that comes with hiding your equipment out of site while still being able to control it. Radio frequency (RF) has its benefits but requires a special remote control as well as IR blasters for each individual device you are looking to control.
Sewell
has developed the InjectIR device for those users who don't want the complexity of an IR setup but still want to be able to control their hidden devices.
Specifications
Here are the specs according to Sewell.
HDMI Female to Male Adapter
With IR plug
33khz – 43khz Band (Single Band Emitter)
480i, 480p, 720p, 1080i, 1080p
Gold Plated
Accurate and reliable reproduction of digital video signal, with no signal attenuation or distortion
Plug-and-Play
Transport both audio and video signals
HDCP 1.2 Compliant
Fully molded and compact size
PACKAGING & PERFORMANCE
The Sewell InjectIR device comes in a small box with just the bare necessities. Within it lies two HDMI female to male adapters, a transmitter (TX) and a receiver (RX) cable. If you want or need a quickstart guide then a trip to Sewell's website is required. Once you understand how the product works–and we hope this review certainly helps–its simplicity will not require it.
The transmitter cable is not an IR blaster per say, in that the unit does not need to be placed directly in front of the IR location of the device. Instead–and this is how the single cable can support multiple devices–it broadcasts the signal via line of sight to any devices in range. As long as the cable find it's line of sight (think: how a remote control works) to the device, then it should work without a problem.
Both of the HDMI adapters are identical so connecting them is as simple as unplugging your HDMI cable and connecting them between your cable and the device. For most users interested in this device the concept is simple–your TV is in plain view of your sofa, but you want to hide your cable set top box (STB) in a closet or cabinet. In this scenario, you connect both adapters–one between your TV and the other between the HDMI cable and the STB. Then plug in the RX cable into the adapter by your TV (and point the end of the cable towards your sofa) which will receive the signal, and then the TX cable to the side with your STB. The only item to note here is to ensure that the end of the cable is pointed towards the STB or other devices.
That is literally the entire setup–no drivers or configuration software is required. Use the remote control for your STB, point it to your TV (where the RX cable end is located) and use it like you would expect. All the commands work just like as if the device was out in the open.
My situation was opposite of what most would (in the example above), but my television's IR signal is located directly in the middle–convenient for most, but a terrible location if you want to place a center speaker in front of the television, thus blocking the signal. Before this review, I had to place the speaker off center; with the Sewell InjectIR I reversed the order and everything functioned just as it should. Pointing my remote control to the stereo end (where the RX side) is and the television turned on and off appropriately. And now, my center speaker can be back to its rightful spot…in the center!
I also tested the Sewell Inject IR with all types of media, including HD audio formats Dolby TrueHD and DTS Master Audio and Blu-ray content, all of which performed without any interruption. There is zero noticeable lag between button presses on the remote control and when they occur on the device–an absolute requirement for this type of device.
It's not all great news however, as an FAQ on Sewell's webpage admits that for whatever reason the device will not work with AT&T U-Verse. No details were mentioned but definitely worth noting.
CONCLUSION
I find myself wanting to be able to say more about the Sewell InjectIR to complement its simplicity and effectiveness. The device does exactly was its advertised and at an affordable cost of $44.95, significantly more affordable than some other devices to achieve similar results. Unlike wireless type devices which could face interference, the IR signal is transmitted over the HDMI cable, making it for instant commands and reliable. With all the press about HDMI CEC being released and what may or may not function with it, here's a perfect IR-based solution to an obvious need for many, myself included.
As long as your device is supported (majority are) then you will be happy. If you are an unlucky AT&T U-Verse or other incompatible STB customer then you will not be so happy. Those concerned with support options can ping Sewell direct, and even if you bite the bullet there is a 30 day guarantee on it.
Pros:
Allows you to hide devices but still reliably control it
Affordable
Simple setup–no software or configuration necessary
Flawless performance
Cons:
Some devices not compatible