Biscotti TV Phone Taking Appliance Approach to Video Calling on the TV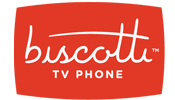 Companies have been trying to meld cameras of one sort of another to the TV for years now with the vision of enabling video calling or videoconferencing from the comfort of the living room couch. Such efforts have generally been tied to other hardware such as the Kinect for the Xbox or the TV Cam for Google TV. We've even seen a couple of efforts to extend Skype into TVs and set top boxes. However Biscotti, a company out of Texas formerly known as Wham! Inc. thinks they have a better solution and have spent the last couple of years trying to bring the Biscotti TV Phone to the market.
Packed inside is a camera, microphone and 802.11b/g/n WiFi — plug the contraption into your TV and you can instantly make calls to family and friends, with no monthly charges. A pair of HDMI ports let the device serve as a bridge between your television and cable box, so folks with limited connections don't have to choose between Dad and Mr. Mom.
Biscotti is prepping the Biscotti TV Phone as an appliance that enables video calling on the TV without any additional hardware or services. Plans call for a remote control and the ability to take calls while watching TV. The basic hardware sounds interesting, but Biscotti's website doesn't reveal much about how the device actually works. Presumably Biscotti TV Phones will only be able to call other Biscotti TV Phones. Step back from the living room and history is littered with video calling devices that failed to gain traction because they could not build the critical mass necessary to be mainstream.
Update 10/31: Heard from Biscotti who updated us on the following: Biscotti TV Phone will interoperate with all types of tablets, computers and smartphones via a popular video service (which will be announced soon)