Windows Live for TV Beta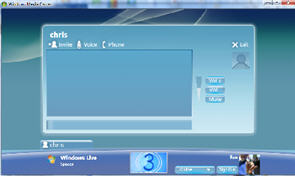 Via Ian Dixon, Windows Live for TV has now hit the beta phase, although it is invite only. Live for TV is a 3D interface for Windows Live Spaces, Messenger and Live call on a big screen TV or large monitor. It is in the early stages right now, so expect a lot of bugs. If you are hankering for an invite, head on over to Ian Dixon's website and PM him for an invite. The Internet is quickly becoming one big social application so why not have it available via Media Centers as well. I am sure in the not too distant future we will see some sort of social interaction with TV (perhaps a channel in which its shows are voted on by users?) and more social uses of music.
What you can do with it
• Browse millions of Spaces in rich 3D graphics with new Gallery views and full keyword search
• Find out what your friends have been doing and saying on Windows Live Spaces
• Have real-time text and voice conversations*
•
Call your friends' mobile or landline telephones by signing up with
Verizon Web Calling to make affordable domestic and international
calls**
• Easily navigate with your mouse, keyboard or a TV remote (remote navigation requires Microsoft Media Center Remote and IR)
• Make free PC-to-PC calls to other Windows Live Messenger users.