SilverStone TS07 USB 3.0 External Drive Enclosure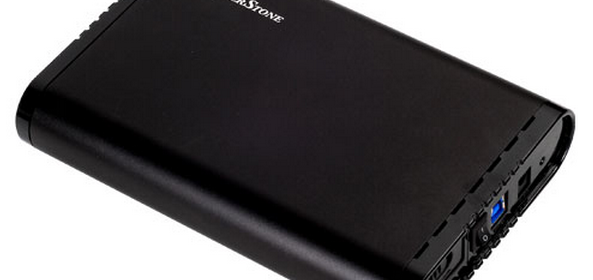 From a recent poll regarding external storage, it is clear that a significant number of respondents are making use of external storage options using interfaces such as USB and eSATA. One of the drawbacks of USB 2.0 is its lack of speed, while eSATA is not nearly as pervasive as USB. With USB 3.0 found in more motherboards, chassis (Fractal Design Define Mini, SilverStone TJ08-E), and expansion cards (SilverStone EC01), it seems like a perfect time to take a look at SilverStone's new USB 3.0 3.5" external drive enclosure, the TS07.
Specifications
| | |
| --- | --- |
| Model | SST-TS07 |
| Enclosure Material | Black Aluminum and plastic |
| Power | 12V DC |
| Operating System | Windows 7, Vista and XP, Mac OS, Linux |
| Drive Size | 3.5" |
| Drive Interface | SATA III |
| Enclosure Interface | USB 3.0, Type B, (Max. 5Gb/s) compatible with USB 2.0 |
| Weight | 340g |
| Dimensions | 193mm (D) x 128mm (W) x 35mm ( H ) |
Test System
Motherboard

Intel DH67BL

CPU

Intel Core i5-2500k

CPU Cooler

Scythe Mugen 2

Memory

8GB (2x4GB) Patriot Signature DDR3 PC3-12800

GPU

NVIDIA GTX 560 Ti

Hard Drive / Solid State Drive

500GB Seagate 7200.12 7200RPM

120GB OCZ Vertex 2

Optical Drive

Samsung 22X DVDRW SATA

Power Supply

PC Power & Cooling Silencer 750W 80Plus

Operating System

Windows 7 Ultimate 64-bit
Packaging and Hardware
The SilverStone TS07 is packaged neatly and well-protected in an easily opened cardboard box. Inside the package are the following items:
TS07 Enclosure
12V AC/DC power adapter
USB 3.0 cable
Enclosure stand
Instruction manual
The TS07 presents a simple and refined appearance. The curved body makes handling the enclosure a joy. On one end, the TS07 is apportioned with a green power/activity LED, a DC power socket, a female USB 3.0 receptacle, a power switch and a sliding release.
Pushing the spring-loaded release ejects an internal plastic drive tray from the housing. Installing the drive proves to be an extremely simple and pleasurable experience because it is intuitive and quick with a tool-less design. The orange sides of the tray flip up to allow the drive to be positioned. Once the drive is in place, pins on the orange sides hold the drive solidly in place by gripping two of the drive's screw holes on each side. Thankfully, it is also impossible to install the drive in the incorrect orientation. The following short video details the process of installing a 3.5" hard drive in the TS07.
Once the drive has been installed, the enclosure is placed in a clear plastic stand, which has some silicone nubs that cushion as well as grip the enclosure. While easily removed from the stand, the TS07 is also held firmly, and so long as it is centered in the stand, there is no danger of it becoming unbalanced and suffering a fall. Another item of note is that the smaller "wall wart" style power supply yields a 3.5" enclosure that is relatively mobile compared to many similar enclosures. Overall, the TS07 gives the impression that it is an enclosure of high quality.
Performance
To test the performance of the TS07, a freshly formatted 2TB Hitachi Deskstar 5K3000 32MB Cache SATA III hard drive was installed. The drive was also installed in an enclosure offering an eSATA connection to establish a baseline maximum performance of the drive, in addition to a ByteCC USB 3.0 enclosure to add a comparison point. Benchmarking was performed using the standard Passmark disk test with long length.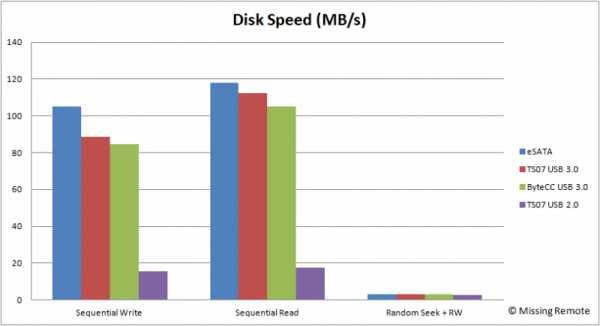 The TS07 enclosure ends up besting the ByteCC USB 3.0 enclosure by a hair and mostly keeps up with eSATA in read performance; however, write performance is about 15% off with this particular drive and seems as though this is caused more by the inherent limitation of the USB 3.0 interface as opposed to any defect that could be introduced by the TS07. As expected, the performance of the TS07 connecting via USB 2.0 pales in comparison to the USB 3.0 performance and makes us yearn for the day when all USB ports available are of the 3.0 variety.
With prolonged operation, the TS07 aluminum exterior becomes warm to the touch while still being comfortable to handle. The TS07 was employed to serve as a daily backup drive to a WHS 2011 machine and no failures were detected in over two weeks of use.
Power
The SilverStone TS07 required little power to operate, adding approximately a watt to the total system power consumed whether at idle or under test. Usually, devices utilizing external AC-DC adpaters always draw some power even when off, but the TS07 adapter does not, which was a pleasant surprise. When operational, the enclosure appears to add about 2.5W to the power that is drawn by the hard drive itself.
| State | Power Consumed (watts) |
| --- | --- |
| Off | 0.0 |
| Idle – disk off | 2.5 |
| Idle – disk on | 6.6 |
| Under Test | 8.5 |
Conclusion
It is hard to find fault with the SilverStone TS07. The enclosure performed well although not quite as well as eSATA, which is to be expected with any USB 3.0 comparison. Compared to many enclosures, the TS07 beats them with its quality design, aesthetics, mobility and user-friendly installation. Carrying a sub-$40 street price, the TS07 is competitively priced in the USB 3.0 enclosure market.
We're finally seeing USB 3.0 becoming more ubiquitous and it couldn't come too soon considering how badly overwhelmed USB 2.0 is with any modern storage drive. Even if you don't currently have a USB 3.0 port to take advantage of, you would be wise to consider a USB 3.0 enclosure such as the TS07 if you are in the market for one because your next PC will almost surely have USB 3.0 capability.
Pros
Attractive and well-built
Power-efficient
Easy, tool-less installation and removal
Beats out competing external USB 3.0 enclosure
Better mobility compared to many 3.5" drive enclosures
Cons
The SilverStone TS07 can be purchased from Amazon.
Thanks to SilverStone for providing the TS07 review sample.