People Watching More Videos, Longer on Tablets and Connected TVs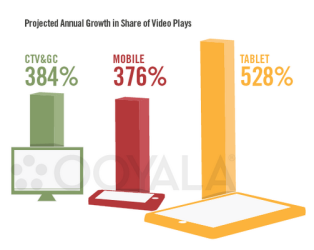 The explosion of mobile devices has dramatically changed the landscape for streaming video consumption over the last couple of years, so no one should be surprised to see a report, such as the one that Ooyala recently released, that shows mobile device viewership is on the rise for online video. Ooyala is a video service provider for companies such as the Hearst Corporation and ESPN. Every quarter Ooyala issues a report of online video viewership habits based on their analytics. The company's 2010 Q4 report goes beyond mobile devices though. The report also breaks down viewership statistics for tablets and connected TVs. For Ooyala's purposes, connected TVs include smart TVs and TVs connected to an OTT box such as a game console or Google TV.
It's in these statistics that Ooyala found some interesting trends that might reflect on the future of online video consumption. Tablets and connected TVs saw rapid growth in usage in Q4, with connected TV usage nearly doubling, and tablet and connected TV viewers are also more likely to watch a complete video and watch a long video versus a short video than viewers on desktops or mobile devices. It stands to reason that larger screens and more comfortable viewing conditions would result in more engaged viewers. As tablets and connected TVs become more prevalent and command a larger percentage of the time spent viewing online video, we will likely see greater demand for more medium and long format video content.
The iOS vs. Android comparison is also enlightening. Starting with the iPhone 4S launch, iOS usage rapidly outpaces Android usage, correlating with recent sales figures for the two platforms and underscoring analysts' suggestions that iPhone 4S sales benefited from pent-up demand for Apple's new phone. There are also encouraging statistics for Google TV, which saw more than a 90% increase in video plays. Admittedly, the slow start that Google TV has experienced means that just about any growth is going to look explosive in isolation, but it sure beats a downward trend.
As we learned in Q3, the rabid adoption of mobile devices has been leading to increased engagement with online video. Not only that, but connected TVs are really beginning to make waves, Google TV in particular. Ooyala's report found that video plays on tablets, mobile devices, and connected TVs nearly doubled in the fourth quarter (from Q3).