AMD FM1 Socket Mini-ITX Motherboard Roundup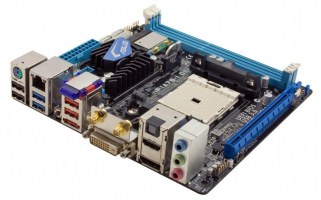 Intel may have been hogging the CPU limelight over the last few years, but AMD has been toiling away on its own processors and taking full advantage of their purchase of ATI several years ago to pump out competitive processors with superior graphics capabilities. Indeed, for a small form factor HTPC that will be completely dependent on its integrated graphics unit, AMD's recent Llano processors are particularly compelling. At the same time, AMD has been more aggressive in adding new technologies and features to their motherboard chipsets, allowing manufacturers to pack a ton of attractive features into even the smallest boards as the motherboards in this roundup demonstrate. It may be hard to tap into the full performance opportunities of SATA 6.0 in an HTPC, but I still find it rather interesting to see an entire collection of motherboards sporting nothing but SATA 6.0 for hard drive connections.
Hybrid AMD processors from A8, A6, A4 or E2 families suit perfectly for Mini-ITX computer systems. Let's see what platforms are currently available from the leading mainboard makers in this field. Today we are going to check out ASRock A75M-ITX, ASUS F1A75-I Deluxe, Gigabyte A75N-USB3 and Zotac A75-ITX WiFi.