Logitech Server Outages Taking Down Harmony Link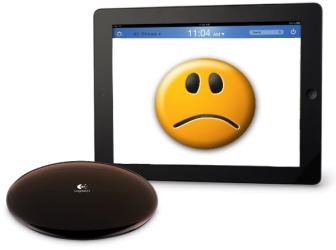 Logitech's Harmony remotes can control just about any device because they are programmed by communicating with the Harmony servers via MyHarmony.com, synching the remote and its functions to the gigantic database of devices and IR codes that the company has compiled. The Harmony Link takes the concept of the Harmony remote a step further by ditching the physical remote in favor of an iOS or Android app that communicates to a Wi-Fi bridge cum IR blaster. Unfortunately, the Harmony Link appears to differ in one other key way. The Harmony Link requires a daily check-in with the Harmony servers, which have been experiencing outages, rendering the Harmony Link inoperable. Based on the discussions in the Logitech support forums, this has been an intermittent issue for a while now. While requiring an Internet connection for setup would seem to be a given for such a device, the lack of an off-line mode after being setup seems like a inexcusable oversight.
You see while typical Harmony remote are only programmed via MyHarmony.com, the Harmony Link apparently requires a quick phone home to work at all. That's according to a number of users at Logitech's forums starting yesterday morning claiming their Harmony Link is now a "very nice and sleek paperweight," only showing an error when they try to turn on the TV for their not-so-super Super Bowl party tonight.