Google TV Updated to Android 3.2, Plex Takes Advantage of Enhanced HLS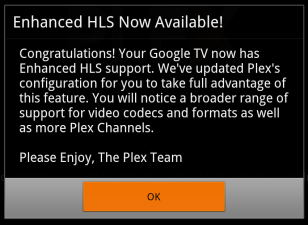 Google TV has received a major update that brings the platform up to Android 3.2. The update is rolling out to Sony devices first, but is eventually expected to be made available for the Logitech Revue as well. The move to Honeycomb brings with it a few big changes for Google TV, including hardware acceleration for apps, an improved Chrome browser, new tools for developers looking to build their own EPGs, and HTTP Live Streaming support.
The update brings Google TV to Android Honeycomb 3.2, which makes this the last big update before the platform migrates to Android 4, a.k.a. Ice Cream Sandwich. The new software has so far only been made available to Sony devices, but an update to Logitech's Revue is forthcoming.
The HTTP Live Streaming Support should improve HTML 5 web video playback, but more importantly, it allows for local streaming to apps that support it. This is the feature that the Plex team recently announced that Google was working on adding to Google TV, and as one would expect, Plex is all set to take advantage of the update. Plex for Google TV will auto-update to version 2.0.3.3 once it detects that a Google TV device has been updated to 3.2. The Plex for Google TV updates includes several fixes, and some big new features that take advantage of HTTP Live Streaming to support more video filetypes and channels via transcoding.
We started receiving reports a couple days ago from users that the latest patch release for Google TV is being rolled out and happily we can confirm that it does include the enhanced HLS support we've been talking about for so long. So go grab the new Plex release to make sure Plex will make use of the new enhanced HLS support – bringing you broader video support, more channels, subtitles and more.