Corning and Samsung Partnering on Lotus Glass for OLED Displays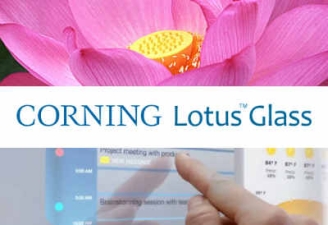 Samsung is one of the world's largest cell phone manufacturers and Corning's exceedingly strong and scratch-resistant Gorilla Glass has been extremely popular for cell phone displays. The two companies have found success working together before, and now the two companies are working together on a new type of glass called Lotus Glass. Lotus Glass is intended to be used in glass substrates for OLED displays, and not just in OLED displays for cell phones. Lotus Glass will also be used in larger displays such as televisions. Samsung and Corning are touting Lotus Glass's ability to withstand the extremely high temperatures necessary to apply the advanced backplanes that companies like Samsung are utilizing in newer TVs, though I suspect there might also be another side benefit for Samsung. Television manufacturers are already competing to build the thinnest TVs with the smallest bezels, and OLED displays are expected to take this trend to a new level. Could it be that the only thing keeping your first Samsung OLED TV standing upright will be the Lotus Glass substrate?
Samsung and Corning — best known for its Gorilla Glass products — announced a new joint venture this week that will manufacture specialty glass substrates for OLED displays. The joint venture will be based in South Korea and will combine Samsung's OLED display technology with Corning's ultra tough Lotus Glass substrate.