Synology DiskStation DS411slim Reviewed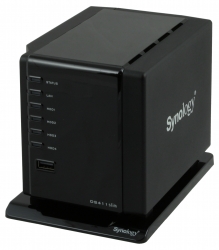 Over the last few years the major NAS vendors have settled into some routines when it comes to product categories. Some NAS poduct lines are targeted at home and SMB users while others are geared more toward medium-sized businesses. Each product line typically delivers some 2-bay and some 4-bay devices, with the occasional single drive and 6-bay system thrown in for variety. Synology's DS411slim isn't looking to rock the boat too much, but it is at least trying to fit into a smaller boat by opting for 2.5″ drives rather than the typical 3.5″ drives. Given that 3.5″ drives can range up to 4Tb and 2.5″ drives have yet to break 1Tb, the DS411slim is not the NAS for the digital hoarder set, but from the sounds of things Synology has applied their usual veneer of quiet reliability and performance to the DS411slim. Given that old laptop hard drives are increasingly common in the average geek's spare parts pile, I could even see pressing a little unit like this into service as a secondary backup NAS for extra important files such as family pictures and unfinished novels.
Anyway, what can a 2.5-inch HDD offer to a NAS user? First of all, it consumes less power and produces less heat and noise. And second, it is just smaller! While the first group of advantages can be enjoyed with any NAS, the small size calls for a special compact NAS design. There are but few such models on the market as yet.