BitTorrent Gunning for Live TV with BitTorrent Live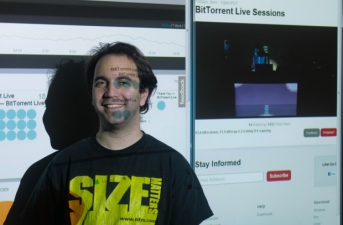 BitTorrent creator Bram Cohen took to the stage at the SF MusicTech Summit on Monday to show off his P2P live streaming protocol, BitTorrent Live. The concept is simple. By using BitTorrent Live, any content provider can stream any live event via the Internet on the cheap with minimal latency. By shifting the distribution of the stream to the P2P audience, the content provider can ditch many of the upfront server and bandwidth costs that might make live-streaming an event too expensive. BitTorrent Inc. is still working on an SDK and isn't ready to announce any deals, or really even talk about monetization at all at this point, but Bram Cohen certainly has some lofty goals if he is serious about killing off television. For now, there is always the beta. In the short term, I wouldn't be surprised to see some of the larger podcast networks such as Revision 3 give BitTorrent Live a shot, and CDNs such as Ustream and BitGravity should be keeping an eye on what Cohen and company do next.
BitTorrent inventor Bram Cohen demoed his P2P live streaming protocol at the San Francisco MusicTech Summit on Monday, which he said could potentially stream live video to millions of computers with no central infrastructure. Cohen said that the protocol could potentially be used for video conferencing, live streams of video game tournaments or even live sports events. "My goal here is to kill off television," he joked.