ASRock CoreHT Server Edition Reviewed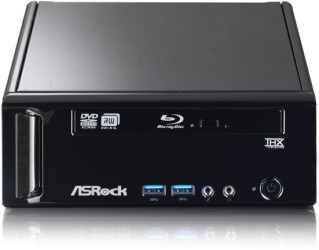 ASRock's CoreHT line of small form factor PCs are specifically targeted at the HTPC market, and ASRock has generally done a good job of delivering the goods. Our friends at Anandtech took the CoreHT 252B for a spin several months ago and were generally pleased with what they saw, but were disappointed with the hard drive performance and capacity. ASRock has since updated the CoreHT line with the CoreHT Server Edition. Despite the name, this little unit is every bit an HTPC. Anandtech has tested this new version of the CoreHT to see if it improves on the CoreHT 252B.
It's very similar to the CoreHT we reviewed before, even sharing nearly the same specs. The one major difference: there's two 500GB HDDs in the place of one, configured in RAID 0. Other than that, there's the same mobile Sandy Bridge internals, headlined by the HM67 chipset and Core i5-2410M processor.