Western Digital TV Live Reviewed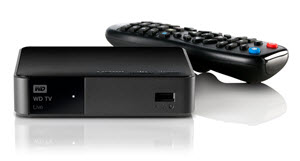 The Western Digital TV Live has proven to be a popular little streamer and Western Digital doesn't seem to have a successor on tap at CES this year, so it might not be a bad time to give it another look. Ditching the hard drive found in the WD TV Live Hub means that the WD TV Live has a smaller price tag and smaller footprint to help it fit into any home theater setup. I'm still not sure that I am a fan of the remote control, but everything else about the WD TV Live should appeal.
Measuring just 125x100x30mm, the WD TV Live weighs a mere 200 grams. The front has a simple transparent plastic plate which just shows the white activity LED (which can be turned off) and a USB port. On the rear you have the power plug, Optical out, LAN input, HDMI out and another USB port, finished off with an old school AV out port.