QNAP Announces New Turbo NAS Server Lineup, Updated Management Firmware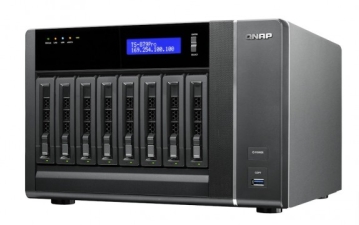 QNAP unveiled a number of new products at CES this week. QNAP launched a new lineup of Turbo NAS servers, along with a new VioStar NVR Surveillance System, V3.6 Management Firmware update, and the JB-1200U-RP expansion storage module for the recently announced TS-x79 SMB-class Turbo NAS. Admittedly, most of QNAP's products are geared more toward business users. Most of us don't really need the 200TB offered by the JB-1200U-RP expansion module or the VioStar's 48 channels of surveillance, but the Turbo NAS line of devices is a solid choice for a network pulling double duty for a home business or anyone interested in a NAS that provides more web server options. The new V3.6 Management Firmware does add media and cloud sharing features to the Turbo NAS's set of network backup and storage tools and the new Turbo NAS servers will come in 2,4,5,6, or 8 drive versions so there is one for every size network.
QNAP unveils its TurboNAS server lineup, VioStor NVR video surveillance systems, NAS Firmware and a new storage expansion solution for its business-class Turbo NAS.

Powered by a dual-core Intel Atom processor, the new NAS series (available in 2, 4, 5, 6, or 8-drive versions) provides business-ready features, making it the ideal networked storage choice for small to medium-sized businesses.