Optoma HD8300 3D DLP Front Projector Reviewed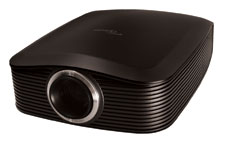 Optoma may be best known for their low price HD20/HD180 1080p projector. This has been a great value projector for many people. They are now showing a performance projector, the HD8300. It appears to be another projector to look at if you want a little more than the HD20 offers.
In terms of connection options the HD8300 is rather robust, sporting two 3D compliant HDMI 1.4a inputs as well as a single VGA-In, composite video, component video, RS-232 port, mini USB-B, Vesa 3D Port and two 12-Volt Triggers. The HD8300 comes standard with an AC power cord, composite video cable, two remote controls, RF Emitter and batteries for its two remotes. A quick start guide, user manual and warranty card are also included. The big omission in the HD8300's case has to be its lack of 3D specs, or what Optoma calls their 3D-RF glasses, in the box. Optoma gives you the required RF Emitter but not the glasses – c'mon man.