ASUS VG278H LCD Monitor 3D Vision-2 Kit Reviewed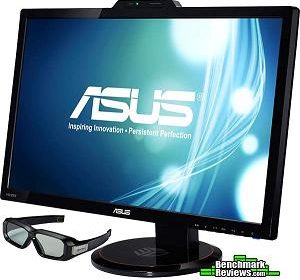 I thought that this was an interesting concept if you want to have another 3D screen around that isn't your TV. The author seemed to like the product. However, for the price ($700) I would take a look at a smaller 3D capable TV.
We live in a three-dimensional world, and display technology is finally catching up to how we see things. Games, movies, multimedia video, and even photos are now widely available in stereoscopic 3D. Packaged with a NVIDIA 3D Vision-2 glasses kit, the ASUS VG278H LCD Monitor gives you that big screen experience with vivid color, 120Hz high-definition 1080p picture quality, and added 3D special effects. In this article, Benchmark Reviews tests the ASUS VG278H 27″ LED-backlight widescreen 120Hz monitor with NVIDIA 3D LightBoost technology and show off its built-in stereoscopic 3D Vision-2 functionality.