Intel Booth – CES 2012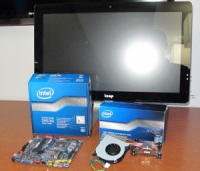 Kyle and I got the chance to check out Intel's booth early this morning and while Ivy Bridge didn't make the trip, we did get to see some cool all-in-one (AIO) PCs both from OEMs and [more interestingly] found out that Intel will be enabling DIY builders to assemble their own AIO systems. There will be a wide variety of monitors (many are touch enabled) which are compatible with thin ITX motherboards (including the DH61AG), although the current set max out at 24″. Of course normal HSF won't work in this application, so Intel has already introduced and a low profile cooling solution that fits nicely inside the AIO chassis.
We also got a chance to check out a couple Medfield tablets running Android; one had Ice Cream Sandwich and the other was sporting Honeycomb (I think). Check out the AIO and tablet pictures on the next page.