Arctic Cooling K481 Keyboard Reviewed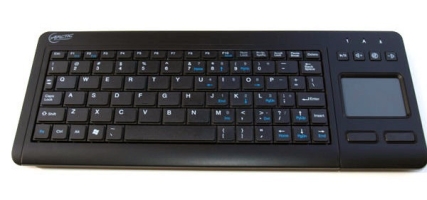 Many HTPC owners tend to be of two minds about keyboards. On the one hand, building an HTPC that can be operated entirely with a remote control can be a point of pride, but the reality is that in most cases, there is a time and a place for a keyboard. Some folks try to split the difference with a mini-keyboard, but thumb-typing is not for everyone. I've been running with an Enermax Aurora for a few years now, and though it is a nice keyboard, the trackball has always been a bit less than ideal. The Arctic Cooling 481 combines a laptop-sized keyboard with a side-mounted trackpad. Though it appears to be smaller than many of the similar keyboards we have seen, it seems it is still big enough to lack the backlit keys that have become commonplace on mini-keyboards. I do like that Arctic Cooling was smart enough to fit in the arrow keys. It's hard to imagine running most media front-ends without them.
The touch pad is multitouch capable and K481 uses some kind power saving mechanisms to improve the battery time. Arctic cooling advertises K481 to be Windows 2000 / ME / XP / Vista / 7 / Mac OS X compatible, but as K481 shows as a generic HID-device to the operating system, I don't see a reason why K481 shouldn't work with any USB-keyboard capable operating system.