Alienware X51: Two Parts Gaming PC, One Part HTPC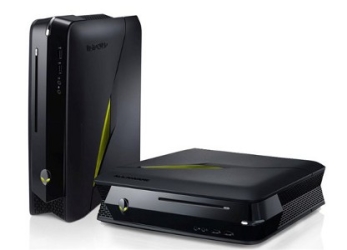 Gaming PCs and HTPCs come in all shapes and sizes, and it is not at all uncommon for the lines to cross, but Alienware may well have come up with one of the more exciting line-crossers in quite awhile with the freshly minted X51. The Alienware X51 is a small-form factor gaming PC that could easily pass for a gaming console at first blush and would no doubt fit in nicely among one's A/V gear. At a base price of $699 the X51 starts out with a Core i3-2120 and a GeForce GT 545 that should handle most 1080p gaming needs well enough, though the base model lacks the Blu-ray drive that might be expected in an HTPC sporting such power. There are upgrade options, but the choice of GPUs is more limited than the choice of CPUs. Gaming-centric HTPCs are certainly a niche market within a niche market, but the X51 may be the closest a mainstream vendor has come to nailing that market, though I suspect Alienware would be surprised to hear so.
Alienware, a leading maker of high-end gaming PCs that belongs to Dell, has introduced the world's first small form-factor personal computer that is designed for gamers. The Alienware X51 is based on mini-ITX mainboard and relies on Intel Core i-series "Sandy Bridge" microprocessors, Nvidia GeForce GTX graphics cards and some exclusive technologies from Alienware.